Hire us
Samba adds colour, excitement and spectacle, and we can tailor our performance to suit any event, large or small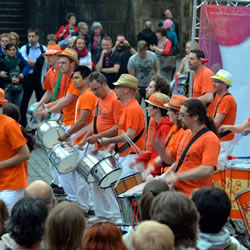 Performances
We perform regularly in festivals, carnival parades, nightclubs, and at corporate, community and sporting events.
The kind of performance can vary greatly, from a short set on a stage or dance floor to a full-blown carnival parade with dancers. We can tailor our performance to suit any event, large or small - contact us to discuss your event requirements.
Check out some videos of our performances below, or on our Youtube channel.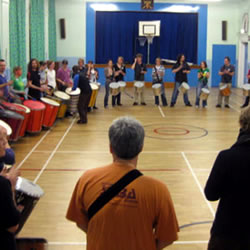 Workshops
We have considerable experience in running workshops in samba drumming, covering a wide range of requirements from team-building for corporate clients to community events with school-children and people with special needs. We will carefully tailor workshops to your needs, and instruments can be supplied on request.